Product Reviews
When you have tried a sample from SampleSource.com, we always send you a survey to ask what you liked and didn't like, and to rate it out of 5 stars. We then post those ratings here.
We do this so all members (even if they didn't get to try a sample) will know what works and what does not, and can make better shopping decisions.
You can trust these ratings - thousands of members can't be wrong!
Catelli Smart Pasta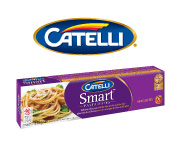 CATELLI SMART® is delicious white pasta with the fibre benefit of whole wheat. One serving contains 32% of your recommended daily intake of fibre and because it tastes great, kids eat it up!
Average member rating:
Would you recommend to a friend?